Happy Wednesday everyone!
I hope you had a great summer and are looking forward to the coming of fall. You know, I think it`s because of so many years going to school but September still seems like a fresh start to me. I love it!
This week, it is my pleasure to share with you all the very first episode of MuseTV! MuseTV is a series (hopefully!) of videos with tips for musicians and music teachers hosted by yours truly. Of course I will be posted other videos, articles etc. by other fabulous people on here but this will be my personal offering.
This week`s episode is about music education and how it can benefit the student in ways beyond the gaining of a musical skill. If you're a teacher who wants a reminder about the impact you can have on your students or if you're contemplating studying music and are curious about what you can really get out of it, check it out! And keep posted for more fun and inspiring tidbits in weeks to come!
If you enjoyed the video – and I hope you did! – feel free to share, comment below with your thoughts and don't forget to subscribe to this blog and the Swimming Tigress YouTube Channel.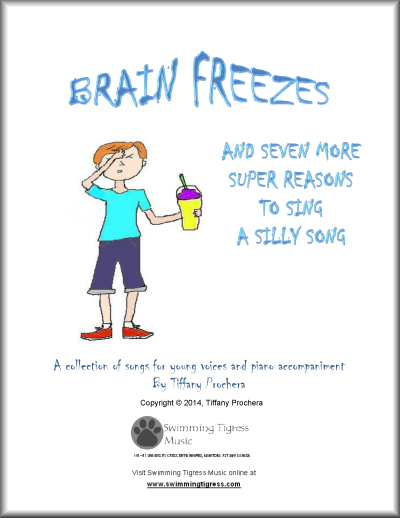 In other STM news, I'm uber pleased to announce the birth of my new child, Brain Freezes And Seven More Super Reasons To Sing A Silly Song!
The follow up to Bad Moods And Seven More Super Reasons To Sing A Silly Song, it's filled with 8 new songs students will love singing and teachers will love teaching.
Well, that's all for now. Hope you have a fabulous day and we'll see you next time!