A cow with big dreams that are out of this world!
---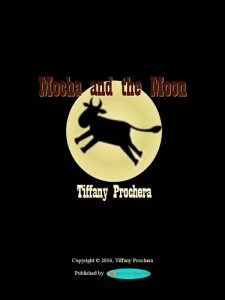 Mocha was a dairy cow who lived on an ordinary farm. But she was no ordinary cow.
No, Mocha was always wondering, trying to make sense of the world around her. And when a fiddle-playing cat named Jeb stops by the farm on his way to the next town, Mocha starts to wonder where she would want to go if she could go anywhere.
How about the moon? There have to be other cows up there because the moon is made of cheese and how could they make the cheese without milk? As her barn mates, Blanche and Moomoo and an ornery terrier named Caesar look on, Mocha is determined to make her dream a reality. But can she do it?
Mocha and the Moon is now available in PDF and Amazon Kindle form for only $2.99 CDN

Inspired by the classic poem, Hey Diddle Diddle, the story of Mocha teaches kids of all ages to dream big and embrace their curiosity.
I like the story so much, I also turned it into a musical with song that will stick in your head and keep you smiling – check it out!

Mocha and The Moon is available here as a PDF from the Swimming Tigress Shop and as a Kindle Ebook from Amazon for only $2.99 CDN