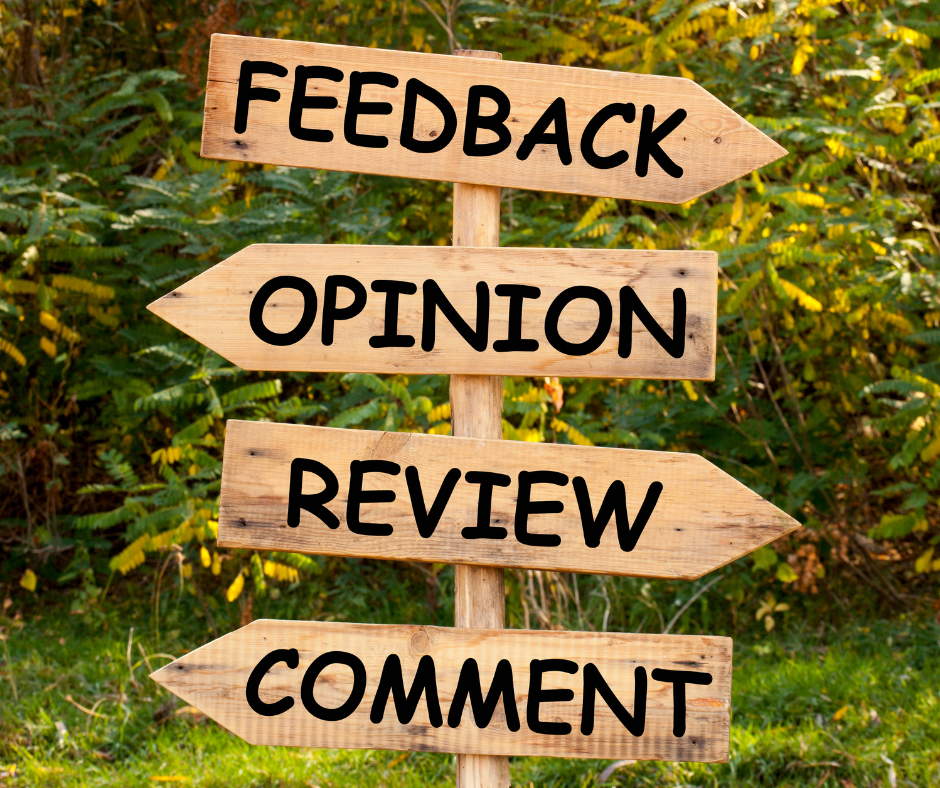 Hi, All!
I'd like to talk to you today about the feedback and opinions of others with regards to our work and how we can approach them.
So, as I have mentioned in a previous post, I have been hosting a weekly radio show on a community radio station for over three years now. Well, last week I received some feedback on my show – during my show. A listener sent an e-mail something to the effect " the female announcer in x time slot – a.k.a me – is too chatty and giggly and should stop talking and stick to playing the great music." Hey, at least they liked the music. 😉
I laughed when I read it. If they had heard me when I started my show three years ago, they would realize how much I have actually toned things down. And I didn't think I was doing anything out of the realm at the time. But, of course, such commentary is always a little disconcerting, particularly when you're in the midst of doing your job. It's like a comedian being heckled or someone shouting, "You suck!" in the middle of your concert.
And you can take it to heart and let it overshadow everything else, like all of the positive feedback you might get.
I mean, I've had way more people calling in to tell me how much they like the show and enjoy my bubbly personality, saying I bring a youthful vibe to the station and I'm their favourite announcer. And, sure, I could be more "professional" and not share stories about the songs. but I figure if they wanted to just hear one song after another, they can get a playlist together on Spotify and have at 'er. Lots of people love knowing the creative history behind their favourite tunes!
There is a difference between constructive criticism and people's personal opinions. There are times when we get feedback that can help us improve as artists.
If a pianist goes to a masterclass and is told they are slowing down their runs as compared to the rest of the piece, that is possibly an indication that practice in that area is required. If a writer is told they are doing something consistently that is grammatically incorrect, it may be an opportunity to learn the correct use of grammar in that situation. As an editor, I have encountered situations where writers will insist that they are going to do things the way they want to do them but, well, they can't say they weren't warned. Anyway, this is constructive criticism from, hopefully, someone with knowledge and experience.
On the flip side, if that pianist is told by someone that they hated the way they played Rachmaninoff because they don't like Rachmaninoff, or that writer gets feedback that someone doesn't like the word "blustery" so they should never use it, well, that's simply opinion. And I suppose if you receive the same opinion often enough it might be something to look at but, otherwise, you might want to let it go.
Now, I think about it, this can also apply to competitive situations. I remember years ago hearing about a scandalous situation at a local vocal competition where the adjudicator was blatant about the fact that she chose the winner because she like the song he sang because it reminded her of her childhood or something. It was clear he was not the best singer so, hopefully, none of the other competitors took their loss to heart, even if they were miffed about the results.
You have to look at where the feedback is coming from, how frequently you get the feedback and what bias might be involved. If the commenter says, "when you do this, this is the result, and this is the effect it is having on your work" etc. it can make sense. If they say, "I just don't like it" well, they can just move on .
The main thing is, are you pleased with what you're doing? Are you proud of your work? If not, then what will it take for you to be proud of your work? Do you need to practice more? Do you need further education? Do you need to take a different approach? If you are proud of yourself, if you look back on your performance or writing, or, in my case, radio show and think, man, that was fun and I did a good job, that's what matters.
And let others do with it what they will. A publisher may dump you. You may lose a gig. But there is always another publisher, there is always another gig for those who approach their work with dedication and passion. And we will always find out audience!
So go forth and create! Share! And if you delight more people than you annoy, keep doing it!
In Swimming Tigress News,
I just released a video in honour of Shark Fest and Shark Week. It's my twist on a classic ditty that's been on my mind for a couple of years now. You can check it out here on Instagram https://www.instagram.com/p/CuSyJIYgTZk/ . Enjoy!
Have a great day and have fun creating!
Tiffany