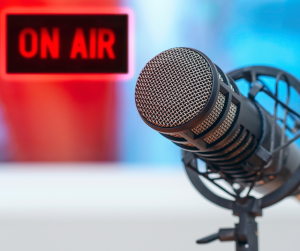 So, it has been a moment. I noticed my last blog post was in January of 2020. As the character, and former U.S. president, Thomas Jefferson, from the musical Hamilton so eloquently states, "What did I miss?" 🙂 What a time we've been having, eh? I hope you are coming out of it all well and with lots of creativity brewing inside you.
So, you may have experienced, or noticed around you, that these past years, especially during the periods of lockdown, required some creatives to find new ways of doing things – online concerts and collaborations, theatrical presentations held on balconies. There were those who found it frustrating and downright disheartening to have to "pivot", as it has become to be known, being unable to connect with audiences in the way they were used to.
But for some, it opened up new short-term and long-term opportunities.
Which is what I want to talk about today. Even in trying times, there can be creative pursuits waiting and it's up to us to take advantage of them. And I don't mean in a mercenary "how can I make money from the pain?" kind of way, though I'm sure there were those who took that approach as well. What I mean is, even in the midst of something terrible – seriously, millions of people have died and millions more were affected so please don't tell me hasn't been a big deal – there are ways to serve, to bring joy and healing to the world through our creativity and, in the process, develop skills and have new experiences.
Starting in the summer of 2019, I began volunteering with a local community radio station as an operator, meaning I ran the board for the on-air talent and kept the show running. I think I mentioned it in a previous post.
Though the first show was admittedly terrifying, I quickly caught on and got my groove. And I'll say I think I was pretty good at it. But as 2020 rolled on and the pandemic situation was becoming more serious, there came a point where we simply couldn't be in the studio safely anymore, even while using precautions.
Then, one day, the call came out from station management looking for those who might be able to broadcast from home.
Well, I have a recording studio at home and am a professional voice artist, so I was probably better equipped than most. And considering the fact that being on the radio was one of my dreams as a child – my sister and I used to record shows on our ghetto blaster where we would interview each other – how could I not raise my hand?
And I have had a weekly show ever since, though in recent times, we have migrated back into the studio environment so I am no longer working by myself at home.
Not only have I had a show, but I have been able to use my creative brain to make it my own. The mandate of the station is to play music recorded up until the early 80's, but when I first started, I also wanted to create an uplifting atmosphere for people who were, at that point, confined to their homes. I invited them over for an afternoon with friends, serving baked treats and, in the summer, an ice cream sundae bar. There was a period where I was also doing shows on Sundays and I brought everyone out for afternoon tea, describing the characters and dainties on display in the elegant dining room. From the feedback I received, I was able to provide comfort in isolation.
So even in trying times – or in regular times because we totally don't need anymore trying times – look around you, see what might be needed in your world and how you might like to participate or contribute. Is there something you might like to learn that they're looking for people to take on? How can you use what you already love to do to improve the situation? Yes, it is okay to take your preferences and strengths into consideration. It's not about being a martyr. I mean, I have been able to live out a childhood dream, learn more about music, and bring people solace and laughter all at the same time so it is possible to create win/win situations!
If you are so inclined, you can listen to my show, Tunes and Treats, Wednesdays from 12:30 – 3:30 Central Time on CJNU Nostalgia Radio 93.7 FM – cjnu.ca if you're online. 😉
In Swimming Tigress news, I've been having fun. I released an e-book for creatives, 20 Tantalizing Tips to Turbocharge Your Creativity with ideas to help you when, well, when you think you've run out of ideas. 🙂 . It's available here on the site and on Amazon and the audiobook is going to be released soon, so stay tuned. Speaking of audiobooks, Tabitha's Magical Voice is now available on Audible! I've also been creating lots of new music for licensing for your projects – available on Pond5.com – along with several reels on Facebook and Instagram to showcase new and existing material. It certainly has been a fun new avenue of expression which I'll get into in another post.
Well, that's about it for now. Until next time, have fun and keep creating!
Tiffany 🙂