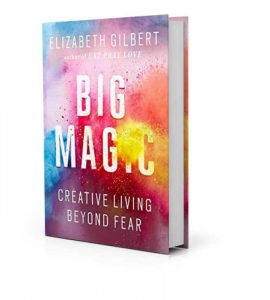 Hey guys!
Right now, I'm watching Eat Pray Love for about the 6th time on TV. I love the sense of adventure and reinventing yourself! And, well, who wouldn't enjoy eating a margherita pizza in Naples?!
So, of course, today's blog post has to be about Elizabeth Gilbert.
I recently read her latest offering, Big Magic – all about the mystery and magic of creativity – and every chapter seemed to bring a new revelation or point to ponder. Some ideas I am absolutely on board with, others I'm just not sure how I feel about them yet.
Have you ever thought about what you expect from your creativity? Do you expect your creativity to bring you world fame? Have about millions of dollars or at least a reasonable living? How about a different understanding of the world, a greater sense of meaning that you can then share with others?
Well, how about this? Gilbert's take on creativity is that it, in fact, does not owe us anything.
According to Gilbert, each idea is is a living, breathing entity looking for a place to happen, on a search for expression, and you should feel incredibly honoured if it chooses you as its channeling vessel. If you ignore it, it will move on to someone else – she has a crazy story about an idea that left her and found a new home – and if you expect anything from it other than the joy and frustration that comes with the act of creation itself, you are stifling it and potentially scaring it off.
Can't say I'm not guilty of all of this myself. I have passed on ideas because I didn't take the time to write them down and then, of course, forgotten them later on. I've had expectations that a work is supposed to be my break out thing, that it's supposed to make me x amount of dollars within the year, that it's going to affect specific people. I've even wrestled songs and stories to the ground to make sure they convey the message I want them to convey, which may not be the message they came here to convey.
So, apparently, a more effective goal might be to embrace and invite creativity – even woo and seduce it – and if you somehow get paid or get recognized for it, great. And if that happens on a relatively frequent basis, you might be secure enough financially to quit your day joy and engage in it full time. But you should never place such pressure on it because the work, the creativity, needs to be what it's going to be and not what you want it to be.
So, my question is, what is your relationship to your creativity? What kind of expectations have you placed on it? Are those expectations working for you or is it time to, perhaps, re-evaluate, reschedule and reconfigure so that you get the best of all worlds?
I will leave you with that thought for today. Enjoy and please share your thoughts in the comment section below! I can't wait to hear what you have to say!