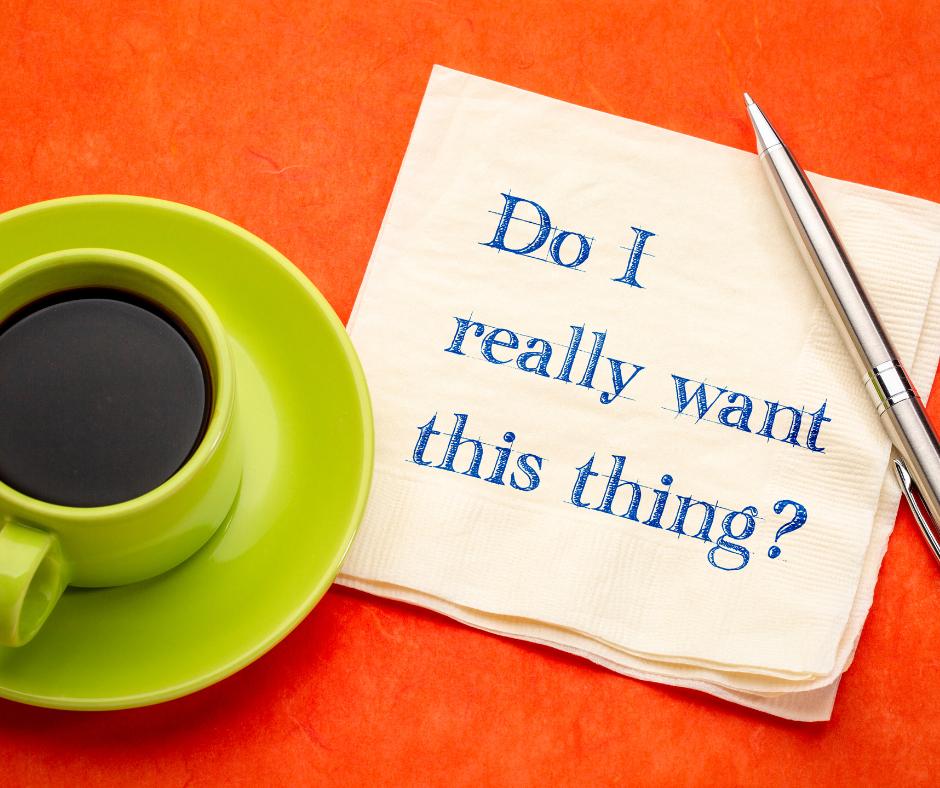 Now, hold on. You're probably thinking this is one of those, "If you can think of yourself doing anything else, go and do it" lectures, one of those diatribes about how hard it is to have a creative career and if you're not willing to give up literally everything else in your life to do it, you should just quit now.
This is not that. What I'm about to say is more geared toward career creatives and I'm not trying to be judgmental, so hear me out.
When the pandemic was in full swing, there was a lot of "I haven't sung in months" kind of talk. And then, when things started to open up and folks started getting back to business it was, "I haven't danced in 18 months. I have to get back in shape for this Broadway show."
And I would say sometimes people need a break and it's good to step back once in a while but these were pained comments. These people didn't want the break. They wanted to keep singing and dancing.
Or at least it seemed like they did. So why didn't they?
Maybe there was context I was missing. Maybe it was the shock of it all and there was a fear that things were never going to be the same again. But it almost seemed like, for a lot of people, the only reason they would dance or sing is if they had a show or a gig to prepare for. And these were some prominent, professional artists I'm talking about. In spite of the shock, they had to know things were going to start up again eventually. But suddenly it was, "Oh, rehearsals resume tomorrow and I haven't sung in a year."
I don't know about y'all but I'm singing and dancing and writing whether there' s a pandemic or not or whether I'm getting paid to or not. After my ballroom dance classes shut down in March of 2020 I started watching dance tutorials online and I have no one to dance with!
Which brings me to the point of this post. Absolutely we can need to step back for a while and reevaluate things. I suppose the situation over the last few years provided an opportunity to do that. But, in general, if you aren't interested in maintaining and expanding your skills, if you aren't curious and learning more about your craft and getting better, whether or not there's a paycheck immediately attached, maybe you need to look at whether you actually want a creative career. Maybe it's meant to be something you do on your own time when it moves you, and that's perfectly okay.
There was a controversy about a theatre festival where some of the companies involved required actors to re-audition for the roles they had before things shut down. There was outrage at the audacity! And I'm not saying there was no reason to be upset.
But a show or event wants to present with a certain set of standards, a certainly level of quality. Yes, you may have been fabulous when you were hired in 2019 but if you didn't keep up your skills etc. and are fumbling around when someone else has been preparing all along and is ready to just step into the role, do they not deserve the chance?
And again, I'm not judging. It was tough. Life can be tough. And sometimes you just want to hang out watching TV and eating bonbons. But if, for the most part, you don't enjoy what you're doing enough to be consistently participating and growing, even on your own, maybe it's time to look at why you're doing it.
Was there pressure from the family? Maybe you come from a family of artists or you got the "we spent thousands of dollars for you to learn the bloody piano so you better make money at it" speech. Maybe you feel a sense of status. You like people's reaction when you tell them you're a professional author or a painter. "How cool! I could never do that!" I know I get it all the time so I imagine it's not that uncommon for people to think of creativity as a magical gift only reserved for a blessed few and you are basically a unicorn. Maybe you became a musician because of something that wasn't directly related to the music itself. It wasn't really about playing the guitar. The guitar served as a vehicle for comradery and connection with the other members of the band.
It's okay if your creativity isn't your bread and butter. You can still create. You can still paint, write, sing, dance. Nothing will take that away from you. But work is, well, work. Joyous work but it takes commitment, nonetheless.
So, if you don't know for sure, maybe take some time to reflect on your experiences in the creative realm and see if you can figure out what makes you happy and what situations truly suit your soul. It's possible you will feel a renewed sense of passion and commitment for your craft but be open to the possibility that there might be other more fulfilling avenues out there for you.
Hey, I question things sometimes, for various reasons. I wonder why I haven't read that book on film scoring yet. I wonder why I I don't know the music from that musical that everyone seems to be talking about on my Facebook groups. I wonder why I sometimes allow other, often inconsequential things, to take precedence over my craft. But I keep trying to get better and always come back to the fact that I love what I do and I really couldn't see myself doing anything else.
In Swimming Tigress News,
Did you know Idea Factory: 20 Tantalizing Tips to Turbocharge Your Creativity is now an audiobook? With ideas to help get you creatively unstuck and keep those juices flowing, it's a fun, quick read to enhance the experience of your craft. You can find it now on Audible, iTunes, and Amazon!