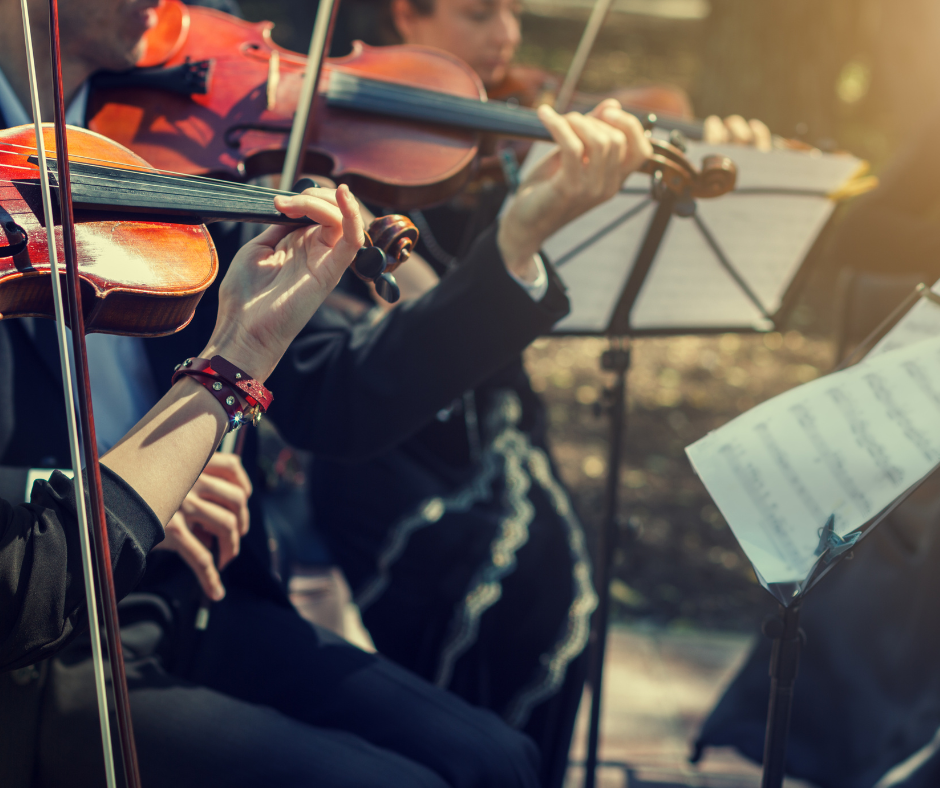 Hello all!
This isn't going to be a rant – though it easily could be because it's a bit of a pet peeve of mine . Let's call it a bit of friendly advice from one creative to another, shall we? 😉
Music can be such a powerful tool in a creative project. It can reinforce or deny emotional expectation. It can foreshadow. It can make you feel anything, really. And every genre under the sun can be placed in a project – jazz to pop to country to electronic – under the right circumstances.
If you are planning on using classical or instrumental music in your projects, I beg you, please take a minute to learn what the piece is actually about. Even if something doesn't have words that are in English – or whatever language you happen to be working in – it doesn't mean it doesn't mean anything and it is to be used all slap-happy, willy-nilly-like. And if you treat it all slap-happy, willy-nilly like, you could run into problems.
Case in point…
Years ago, a well-known airline put out a campaign ad about their new comfortable seating, or something like that, and had images of passengers blissfully dozing to the soundtrack of "Nessun Dorma", the big aria from the Puccini opera, Turandot. You can see why – it's a well-known piece. Even if you don't know what it's from or what it's about, we've all heard the famous rendition by the late, great Pavarotti, so why not put it in there for recognition's sake?
Well, my friends, I'll tell you why not. Because "nessun dorma" literally means "none shall sleep" in Italian! The hero is singing about how the whole kingdom is being kept awake under the threat of death as the princess Turandot will execute him and everyone else if she does not learn his name by morning – because if she doesn't discover his identity, she has to marry him, and she wants to stay single. So, those who were familiar with the work were no doubt watching the ads and chuckling to themselves, if not downright guffawing, at the irony of it all.
Last year, I was watching a documentary on television about the gardens of the late Queen Elizabeth II, may she rest in peace. There is a clip when she is perusing the scene at one of her garden parties and I'm listening to the instrumental music in the background thinking, wait, is that "Get Me to the Church On Time" from My Fair Lady? You know, the tune sung by Eliza Doolittle's father as he's preparing for his wedding day? I mean, first of all, the gal just lost her husband of 60 + years and I'm pretty sure she's not ready to get married again any time soon, and what does that have to with a garden party? A relatively minor infraction but it's still just throwing something in there because.
You see, not all music is going to have specific meaning and is designed to simply create a mood, a vibe. In that case, go for it. Throw in something that sounds happy if you want people to feel happy. But if you're going to use a piece particularly because it is recognizable, get some context for it. I'm not saying you have to do hours of research into the history and everything of it – unless you want to, of course – but don't use a song about not sleeping to promote sleeping! Or use "Spring" from Vivaldi's Four Seasons in a scene about winter. Not that I've seen it but I'm sure it has happened somewhere. Don't do it! It's just embarrassing for everyone.
I will add that, the more you learn, the more you understand, the more you will effectively be able to use classical or instrumental music in your projects. You might want to ironically use "Nessun Dorma" in a scene where people are sleeping, and you will know it's ironic because you now know what it's actually about.
Or if you're doing a period piece and familiarize yourself with the works from that era – maybe this is left to a music supervisor but I'm going to personalize it just the same – you can really play with it.
Say you're doing something set  at the turn of the 20th century but want a modern twist on it – like the classical covers of current hits in Bridgerton or the original rock tunes (meaning original artists, not original to the soundtrack) placed in one of my favourite movies, A Knight's Tale – if you know the classical or instrumental hits from that era you may find modern songs that are based on those pieces. For example, Eric Carmen's hit "All By Myself", revived by Céline Dion for Bridget Jones' Diary, is based on the  second movement of  Sergei Rachmaninoff's  Piano Concerto No. 2 in C minor, composed around 1900-1901. Playing with that knowledge allows you to not only have a better framework for the music in your project, but it allows you to drop some Easter eggs as well – I think. Did I use that term correctly? My gaming days are behind me, I'm afraid. 🙂
All this to say that just because a piece of music is in a genre you're unfamiliar with, it doesn't mean it exists just to be pretty or dramatic or whatever you happen to be looking for at the time. There is a context to it all and it behooves one to learn about it.
Now, in other Swimming Tigress News,
We are quickly approaching summer and, specifically, teddy bear picnic season. The official day is, in fact, July 10th but I'm sure there are picnics held throughout the summer. If you're looking for a theme tune for your event, I humbly suggest, "Teddy!" from my alter-ego, Tofaru, a rousing tune in honour of our fluffy friends. Check out the lyric video on YouTube and go to Pond5.com to license the track for your event!
Have a great day and happy creating!
Tiffany 🙂