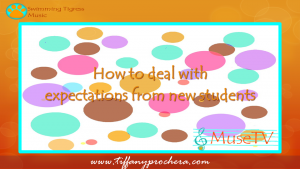 Hey guys!
So, this week I would like to present another episode of Muse TV!
If you haven't see it before, Muse TV provides tips and tricks for musicians and music teachers.
This episode is called How To Deal With Expectations From New Students. As music teachers, we are presented with students who want to take music lessons for a variety of reasons and each student comes with their own expectations of how lessons should go and what they are looking to get out of them – the stories are really as numerous as the number of potential students!
I wanted to present some scenarios that I have encountered personally so help those beginning teachers who may not quite know how to respond to these expectations and questions – like, what can you say when a student tells you they just want to be famous? Or what if they don't want to do warm-up exercises?
I hope you find this episode illuminating in some way! And if you have any other scenarios that you have experienced, feel free to share the story and how you handled things in the comments below! I'd love to hear what you have to say!
Well, that's about all for now. Have a fabulous day!