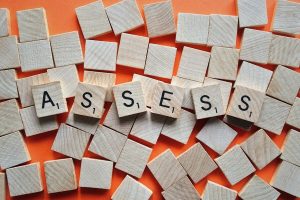 Greetings and Salutations!
As we are enter a new year, we often take time to evaluate what has worked and not worked in our lives so we can dispense with what is ineffective to make space for things that might be more fruitful and fulfilling. You know, stop eating this, start eating that. Call some friends more, let other friendships go. It can be so easy to go on autopilot, doing the same things the same way day in and day out and, next thing you know, it's years later and you feel like you've made no real progress. And, like I said in my last post, you can reinvent yourself any day of the year but a new year is kind of an appropriate time to do it, don't you think?
Do you also apply this evaluation process to your creative journey? It can actually be a fun thing to do, even if there may be the occasional moments of sadness and regret – not that there is ever anything to regret, only lessons to learn from. J
Why not, right? You want to thrive. You want your work to be the best it can be and inspire the right people. Sometime adjustments need to be made. But you don't have to change for change's sake, although you certainly can. It can be exhilarating to switch it up just because but if something is going great, no need to reinvent the wheel.
So, there are various areas to look at when going through the reevaluation. There's what you do and how you it.
What are your current creative pursuits? Do you still enjoy writing novels, sculpting? Does it still inspire you on some level? Do you enjoy composing classical music or would you like to try some jazz?  I always look at the current projects I have in the works and see what still does it for me and what new ideas I might want to undertake during the year. It's important, as well, to realize that there are some ideas that sound intriguing but you are not really ready to commit to. So, if you are maybe engaged in a project that excited you when you first thought of it but it's just not doing it for you anymore or it's not evolving the way you thought it would, it's okay to set it aside for a while or do away with it altogether. Let it goooo! Let it goooo!
But I digress. Then, once you assess at your actual creative projects, look at your process. Does it allow you to do your best work? Is it time to rent some studio space rather than doing all your creating in your home? Do you find performing live unnecessarily stressful and would rather stick to being a recording artist? You can do that. Maybe the writing in the coffee shop routine provides you with more distraction than inspiration. Maybe you need to work at a different time of day for maximum effectiveness. There are plenty of books and resources with tips on the best way to engage your creativity and, while you can absolutely experiment, it's ultimately about what works best for you. Take some time to reflect on when you thrived in your creation, when you were "in the zone".
Finally, how have you been trying to reach people (a.k.a. promotion) up to this point? This makes sense to be the last area to assess as changing your creative focus will change your target market and how you access it. Do some reading on promotional techniques for artists, watch some videos. There are plenty of people offering programs on Facebook with introductory webinars – how helpful they might be is another question but they're out there. Are you a big social media user? What platforms are getting you the most response? What new techniques can you try to get more traction? is it time to incorporate live videos or start a blog?  If you are getting lots of "likes" and whatnot, do they translate into concrete benefits for your creative pursuits? If you are a career creative, hundreds of thousands of views and thumbs ups mean nothing if people aren't then buying your stuff. Just sayin'. Maybe you've been overly focused on social media interaction and it hasn't been working. What about a more direct contact approach? Some promotional things can be fun and having fun is important – some people love doing crazy behind-the-scenes videos and such –  but this is also a time to look at whether your promotional strategies are worth the time you're investing in them.
As you go through this process of analysis, remember that you probably won't have the answers and that's okay. Try not to think of it as wasted time if you don't see things happen right away or if some new idea seems to fail. Been there, done that, bought the t-shirt. You can't guarantee that you'll become a resounding success if you go from writing travel books to YA novels. You don't know if you'll go from 100 to 1,000,000 followers on Twitter if you start sharing your band's fashion tips. All you can do is try – explore some new ideas and see what happens. Think of it an as experiment and have some fun as the results come in!
And with that, I'll sign off. Now, if you're looking for some inspiration to help you start the year off right, might I humbly suggest my book, A Candle At Both Ends: Thoughts of Inspiration for the Beginning and End of the Day, full of poetry and prose to help you start the day inspired and go to sleep peaceful and resolved. Check out more info here http://tiffanyprochera.com/candle-at-both-ends/.