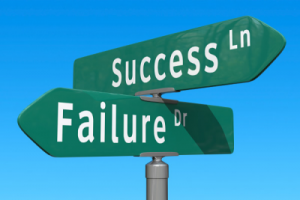 Hey guys!
So, I was talking with my mother who had just attended a screening at a film festival. There was a Q and A with the director – or writer or writer/director – and he was asked by an audience member if he was making any money with his films. The director, apparently, proceeded to explain how it was a tough industry and, no, he wasn't making very much.
I'm, frankly, a little tired of this talk. I hear it far too often and it's pretty annoying and indicative of a victim mentality. Now, make no mistake. I have had varying levels of success with my work but I have never once blamed it on the field I have chosen to work in.
Here's the thing. If you're complaining about how challenging the industry is – whether it's music, film, publishing, listen up. And I say this with all the love in the world. It's not the industry, it's you.
You're probably giving me the stink eye right now. But I'm trying so hard, you're saying. I'm really good, you're insisting. If anyone deserves success, I do, and how dare you say my lack of success is my fault!
Before you start writing that hate letter, let me explain.  Your lack of success may be due to one, or a combination, of several factors, all of which are within your power to control to one degree or another.
First of all, a big part of the problem is simply the fact that you're telling yourself it's a tough industry. It's a prominent belief, and say I'd it's a universal fact, that you see it when you believe it. What you focus on increases. If you're all moping around moaning about how the industry won't give you a break and only a special few can make a living at it, then the universe turns around and says, "All right, if that's how you think it is, you got it, toots!" And you will continue to see your journey as difficult and success will be elusive. But if you choose to believe that opportunities abound and any setbacks are merely clues and lessons on your way to inevitable victory, you're much more likely to do well. At least give that mentality a try for a while and see what happens.
Second of all, look at what other people are putting out into the world.  You may love what you do – and I sincerely hope you do – but is your work of a comparable quality to those who are succeeding? Certainly, there are some who find success regardless of their skill level –these are usually people who either have such determination and such confidence in themselves that they refuse to see failure as an option (see point 1) or they happen to come across an idea that just needs to be heard at that point in time – but, for the most part, a certain level of proficiency in your craft is required. But not to worry. If you find your skills lacking, you can work on them. You can get better. We are always growing as artists and as people. You may just need to do something else for income while you are doing that growing and that's okay.
Thirdly – also along the line of the observing others thing – what kind of work are people putting out there that might be popular? What is the world looking for?
Now you may be thinking, I am an artist, darn it! I do not pander to the masses! And, certainly, you don't have to. Part of what is great about art is the opportunity to express our unique perspectives. But keep in mind that a bleak, subtitled film where some guy's business gets chopped off at the end may, just may, have a somewhat limited audience. Or it could blow up and be shown in theatres all around the world. Anything's possible. But even if you're into more unconventional expression, you may want to, for the sake of your bank account, consider reserving at least part of your energy for creating works of greater appeal. There is no shame in that and you may ultimately find that it's where you end up making your greatest impact.
And what are you doing to get your work out there? I have talked about this in other posts so I'll try not to repeat myself. If nobody knows you exist, it doesn't matter if you're the reincarnation of da Vinci, Moliére or Mozart.  Learn about effective strategies to get your work seen according to your chosen medium and invest some time and energy, and, likely, money into gaining exposure.  There may come a point where your work speaks for itself and you develop a reputation that sustains you but, until then, do what must be done.
And finally, maybe you would be best working with others, using your talents in the context of something larger than yourself. If the goal is to use your skills, think creatively – I know you can! – and you may find several applications that are fulfilling and lucrative. Perhaps it's a true collaboration with like-minded folks who can assist you in achieving a common goal. Perhaps it's working for an established company that needs exactly what you have and want to offer. There are options. And you can always do your own projects off the clock.
So, there you go. Until you have taken these actions and done everything possible to give yourself the best chances for success, do not blame the industry. Go forth with confidence, faith, and a knowing that you have the power to shape your own creative destiny.
Now, In Swimming Tigress news, I'd like to introduce the brand new Swimming Tigress Shop! Powered by the good people at Shopify, it's your change to get all your music and books from Swimming Tigress Music and Swimming Tigress Press straight from this site! Visit the store now and browse around the catalog!
Have a fabulous day!