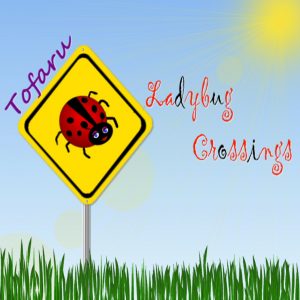 Hey Guys!
So, usually, I will post about a book I was inspired by or offer some tips to aid in your creativity. And there's absolutely more of that to come!
But I'm going to kind of forego that today because I have some exciting news!
Ladybug Crossings is here!!!!
I'm so excited! The album is full of songs kids can relate to with catchy melodies that will have the whole family singing along. Trust me, there are some serious earworms in there! And some songs, like Doodley Do and Mr. Willywallywolowitz, come straight from my Bad Moods and Brain Freezes collections so you can get the books and learn to sing them too!



The album is now available on all you favourite digital streaming services – iTunes, CD Baby, Amazon, Apple Music and more! Feel free to take a moment to buy your copy before you continue reading… 🙂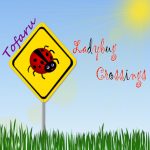 BUY ON ITUNES         BUY ON CD BABY     BUY ON AMAZON
Welcome back!
So,I guess here's a tidbit, a nugget of advice, to take away from this – other than the music, of course, which I really hope you enjoy!
A few years ago – and you may already know this story – I was at my computer and tried to type my name. I can't remember what I was working on exactly but my fingers happened to be in the wrong position on the keyboard and Tofaru is what came out. I could have ignored it as just a blip but I looked at the combination of letters and thought, You know, that's a cool name. If I was ever to put out a children's album, that's the name I would use.
Fast forward to a year or so later. It was a lovely spring day –or was it fall? I was walking along the sidewalk close to my home and I almost stepped on a ladybug– Heaven forbid! – who I can only assume was busy running her daily errands. Being a lover of ladybugs – they really have impeccable fashion sense – I was concerned for the welfare of my new friend and immediately thought to myself, You know, they should have ladybug crossings." It occurred to me that that concept might make for an interesting song so I kind of kept that thought in the back of my mind but didn't really do anything about it at the time.
Then, about a year after that, I was getting out of the car in front of a movie theatre, looked down at the ground and there was a another ladybug right by my feet. Of course, ladybugs are rather ubiquitous in the appropriate season but this ladybug seemed to be telling me, in her polka-dotted fashion, to get a move on it already and start making the album.
So, I did!
And the point of telling you all of this? The moral of this story?
Don't take any moment for granted. There is a saying that suggests there are no coincidences and I pretty much believe that's true. If I had just ignored all of the little hints and serendipities, Ladybug Crossings would not exist.
So, be aware. If something pops into your mind, don't toss it off. It could be the inspiration for your next film, your next novel. It came to you for a reason. And, like Elizabeth Gilbert says, if you don't do something about it, if you don't act on that inspiration and create, the idea will just leave you and find someone else.
I hope you enjoy Ladybug Crossings as much as I enjoyed making it! And spread the word if you like what you hear. Music is such a beautiful thing to share and, well, watching kids dance around the house is always fun, isn't it? 
Have a fabulous day!