Swimming Tigress Music and Notalotabull Press would like to wish you a Happy New Year and a prosperous and healthy 2012!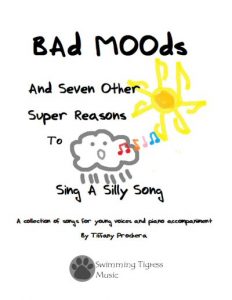 At STM, we've been busy getting the word out about Bad Moods And Seven Other Super Reasons to Sing a Silly Song, the new collection of songs for young singers by Manitoba composer and singing teacher, Tiffany Prochera.
Tiffany has put together some YouTube videos of songs from the collection so you can have a chance to hear them in their entirety. You can order the book in hard copy or digital download online at www.swimmingtigress.com or at Tredwell's Music Centre in Winnipeg.
Here are a couple of videos! This first one is for Mr. Duckworth and Mrs. Bunnington, two little fuzzy friends that Tiffany uses to help her students learn to perform in front of an audience
This one is about a crazy science teacher named Mr. Willywallywolowitz. Enjoy!
You can watch more videos at the Swimming Tigress Music YouTube channel at
http://www.youtube.com/user/SwimmingTigressMusic
Have a fabulous day everyone!